HOLIDAY SHIPPING INFORMATION
East Coast: UPS Ground orders need to ship by December 15th to be received by 12/22/2022
Mid West: UPS Ground Orders need to ship by December 18th to be received by 12/22/2022
West Coast: UPS Ground Orders need to ship by December 19th to be received by 12/22/2022
Expedited shipping is available upon request.

We have been voted Sonoma's
Best Local Food Brand for 2021 & 2022.
Vella Cheese's Retail Store remains open to customers during our regular hours as long as we are allowed to do so.

10 am – 5:00 pm, Tuesday – Saturday

If you don't want to come inside, call ahead (707) 938-3232
and we can bring your order to the parking lot. 
---
Missing Charley Malkassian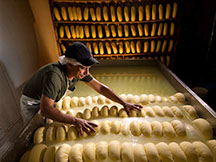 We are absolutely devastated by the loss of Ig's right hand man, our hardworking and devoted head cheese maker of 40 years, Charley Malkassian. When Chuck retired in March 2020 he left just like he lived, quiet and humble with a big smile and a wave. He trained all of our current cheese makers and imparted his humor and sweet disposition on our make room and factory for generations. We are eternally grateful to have been the recipients of his dedication to the craft of cheese making and his legacy will live on in our product everyday. Charlie was a part of our family and he will always be honored as a pillar of the Vella Cheese Company. You will never be forgotten and will forever have a place at our vat. We love you Chas.
Photo By: John Burgess/The Press Democrat
---
Since 1931, Vella Cheese has been a companion to the finest foods in the world. As an ingredient, sprinkled on top, or served alongside the full fresh flavor and smooth creamy texture of Vella Cheese is guaranteed to satisfy.
The success of Vella Cheese lies in the personal attention each day's production is given. Quality starts in the pasture. Every cow is not the same. Every day is not sunny; every blade of grass is not green and lush. But, if you insist on the finest breeding of herds, the finest feeds, the greatest care in milking and transporting the top grade milk, so that you have the best possible natural raw material, you have set the stage for super cheese.
We are all natural
Only natural ingredients go into our cheeses and their coatings.
All the milk in our cheese comes from Mertens Dairy: a local sustainably farmed Sonoma family dairy and their happy free range California cows.
Our whey, which is a by-product of cheesemaking, returns to Mertens dairy and to local vineyards to enrich their crops.
We are the first solar powered business in Sonoma.
We are committed to waste diversion, including recycling, composting, and furthering the sustainability of all our operations.