Due to "shelter in place" we are offering a 10% discount on all online orders excluding shipping from 03/19/20 – 04/07/20.
Vella Cheese Products
Our Bear Flag Brand Promise
We never use
animal rennet.
Consistent with quality
and flavor, we use the minimum amount of salt, about 1percent by volume.
All of our cheeses are hand made, hand cut, and shipped by approximate weight. You will receive storage instructions for each cheese you purchase.
Gift Boxes
with our special gift card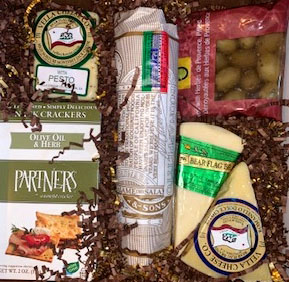 Half pound wedges of Romanello Dolce. Italian Style Table Cheese, and Pesto Jack
Large Salame
Olives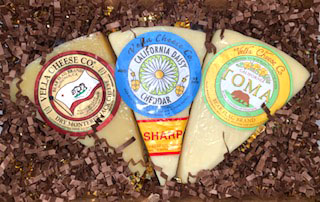 Sample half pound pieces of three medal-winning Vella cheeses: Toma, Regular Dry Jack, and Daisy Sharrp Cheddar
Half Wheel of Original or Seasoned High Moisture Monterey Jack and
a large Italian Dry Salame
Half pound blocks of each of these: Regular, Pesto, Jalapeño, & Garlic Original High Moisture Jack Cheese
Half pound wedges of Mezzo Secco, Regular Dry Monterey Jack, Asiago, Daisy Cheddar, Original High Moisture Monterey Jack, and Monterey Jack with Rosemary
Original Jack | Dry Jack | Italian | Cheddar | Gift Boxes | Salame